Since the birth of her son, Fiona has been feeling a little pep in her step.
She is now ready and willing for a brand new, meaningful relationship.
Meanwhile, Lao is growing a lot and Declan can't wait to meet his baby. He's been babbling to her stomach since the day she announced the pregnancy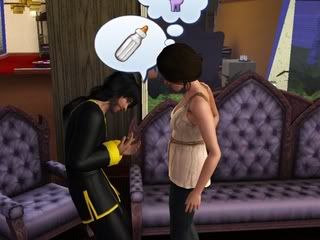 Suddenly, Lao went into labor. Declan rushed her into the hospital in a panic. After a few hours of labor, Lao gave birth to their daughter Maylin Baker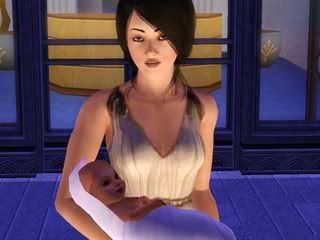 Just down the street from the hospital is the spa that Fiona works at. After her shift ended, she waited outside for a coworker. She has been eying Mortimer Goth as a guy she'd love to get to know exceptionally better. He and his family have lived in that high-up mansion for several generations and they are a quiet bunch that keeps to themselves. The mystery surrounding the Goth family piqued her interest in him. She waited a while, and out came good ol' Mort.
Fiona pounced and asked him if he would mind coming over to her place. He agreed and appeared to be very smitten with her
That night, they had a ton of fun together. Mort even started showing an emotion other than grumpy to prove how well they had hit it off
However, the jubilation was short lived. Mort went right back into being his cruel self. Fiona's parents owned the theatre and they were both accomplished jazz musicians. Mort seemed like a guy bent on ridiculing everyone for everything, even success. Her parents weren't off limits and he went for the jugular
After the explosion of erupting emotions, she told Mort to go home and take his attitude down a few notches. Fiona really liked Mort, but she wasn't sure if she should allow a guy with such a short fuse in her house and around her children. Thinking about this situation heavily, Fiona decides to put her and Mort's almost relationship on the back-burner while she scoured the town for a guy that she may find more fitting for her lifestyle.
At the park, she ran into a man named Conor Frio. She was immediately drawn to him since he had on an overcoat. What could this guys life even be like? Granted, an overcoat doesn't necessarily mean anything. He could just like the style. Either which way you slice it, Fiona was interested.
She invited Conor over to her house to get to know him better as a person. Conor had other things on his mind. He swooped her up into his arms, and she couldn't help but fall for it just a little bit. Any guy that takes such daring initiative is a guy she wants
But while he was holding her, she noticed a ring on his finger. For all Fiona knows, he could be a widow still wearing a meaningful ring. To be on the safe side, she asked Conor about it. If this guy is married, she certainly doesn't want to be seen as a homewrecker. Much to her surprise, he had no issue admitting he was married. Repulsed, Fiona kicked him out. Why was this town filled with such losers? At this rate, Fiona will be single forever.
Fiona got a call from Mortimer. He apologized profusely, and begged for them to get their relationship going. She reluctantly agreed. As long as he can keep his temper in check, she would be a happy woman.
Their relationship was going extremely well, and Mort eventually moved in with Fiona and the rest of the family. Soon after, Mort got down on one knee and proposed marriage
Fiona took the proposal, but told Mort she wanted to wait a tiny bit before getting married. She didn't want to rush anything too quickly. But upon seeing his sister getting engaged, Declan, Lao and Maylin moved out into a place of their own. Fiona was sad, but two growing families can't really share the same space together. It would be too hectic. Fiona watched from the door as they hopped in their car and drove to their own home
Mort and Fiona have been loving their relationship. Mort was even getting along well with Bilinda and Upton. Things were certainly looking up for them.
A new day and Fiona once again found herself in the bathroom, vomiting heavily. Could there be another baby on the way for Fiona?